An award winning, globally sourced and vetted collection of short documentaries to inspire a more just and sustainable world
BECOME A MONTHLY OR ANNUAL MEMBER
SIMA Academy provides educators and changemakers access to over 200 films and lesson plans that have been jury-curated and assembled not just with a focus on quality, but also with a discerning eye for educational value and relevance—providing every academic discipline with the most essential current affairs videos for their focus or field of study.
Stimulate and reinforce in-class lectures or introduce new topics. Encourage open discussion on key issues. Write new media-centered curriculum. Diversify your syllabus. And so much more…
For Group/Institution access, please contact us to learn more.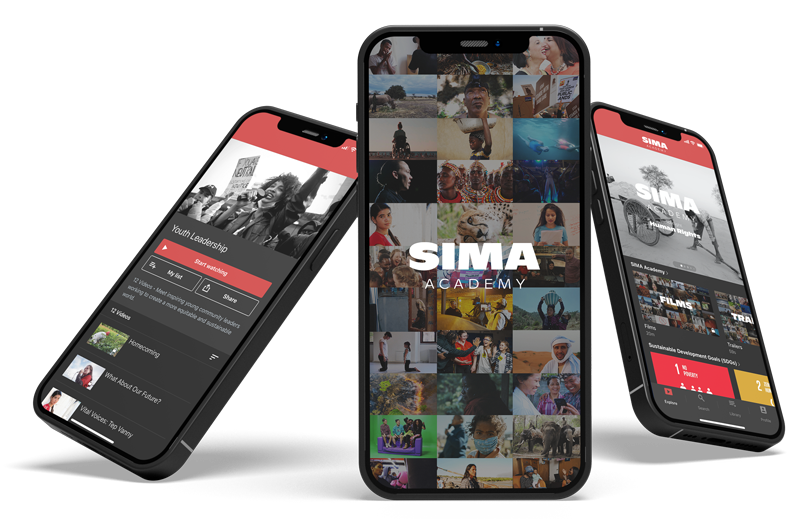 Your Subscription Includes
Social Impact Films
Get exclusive access to our growing global content libraries and collections of award-winning short documentaries, 360 videos and bonus lessons. New titles are added automatically and you will be notified of all recent additions.
Lesson Plans, Filmmaker Q&As + 2030 Challenge
Inspire service learning and community engagement opportunities with action-based and participatory teaching resources created in partnership with education and social justice experts.
Over 220 Collections
Access conveniently themed and searchable collections to kick-off discussions and activations on any chosen topic, including: the SDGs, Gender Equality, Climate Change, Racial Justice, Tech for Good and more cross-cutting topics.
What Sets SIMA Academy Apart

Breadth and Depth
Jury-curated from over 140 countries and featuring over 40 languages, SIMA Academy provides educators and organizations with unprecedented access to authentic global perspectives and a constantly vetted and refreshed selection of international productions each year.

Current and Trending
Our acquisition efforts are ongoing, and we are consistently adding more vetted and award-winning powerful short documentary films by filmmakers from around the world to our library. Through this lens, educators are granted a unique opportunity to engage and connect today's learners with the content that's relevant to their lives, spotlighting the issues they care about most.

Intuitive, High-interest and Curriculum-Synergistic
Working with an advisory board of education professionals, our content staff has created a subject-matter taxonomy of 25 distinct areas of study within more than 40 core thematic playlists designed to complement new and existing academic curriculum. In addition, members can sample between featured playlists that are regularly curated to reflect timely world themes and events.

Performance
Our platform features an advanced technical infrastructure custom designed by Vimeo, one of the world's leading streaming platforms; a fully responsive and mobile-friendly interface and app; and a powerful search engine and browse functions, making it fast and easy to use 24/7 on any internet-enabled device. Users can also download unlimited films while on the Android or iOS App to access without internet.
"SIMA has been an invaluable resource in all my classes. The videos are brief, engaging, and of very high-quality, and they explore a wide variety of topics including technology, poverty, environmental justice, equity, and inequality, just to name a few. SIMA videos enrich my course content…students thoroughly enjoy the videos also because they know that they are giving back to those who produce them! Easy to navigate and rich in content. I can't imagine my classes without SIMA in them!"
— Timea Varga, Educator, Lynn University
The Gold Standard in Education
Educators use SIMA Academy to:
Students surveyed just one semester after using SIMA Academy have shown the following characteristics:
SIMA Academy is LOVED and TRUSTED by over 1,000 institutions and 2,400+ educators across 108 countries since 2015. Join us and inspire the next generation of global citizens!